You have reached our SCORM content General Troubleshooting page. Here you will find information on general troubleshooting tools as well as Frequently Asked Questions when training using Kantola's SCORM content.
General SCORM Information:
Step 1: Uploading to your LMS
We will have sent your course(s) to you a .zip files, and these can be uploaded directly into a SCORM-compatible LMS. If you are having trouble loading the course/s into your LMS. Please contact Kantola Training with a screenshot of the error message.
Step 2: Playing the course in your LMS
If you have been able to load the SCORM file into your LMS, but the course will not play: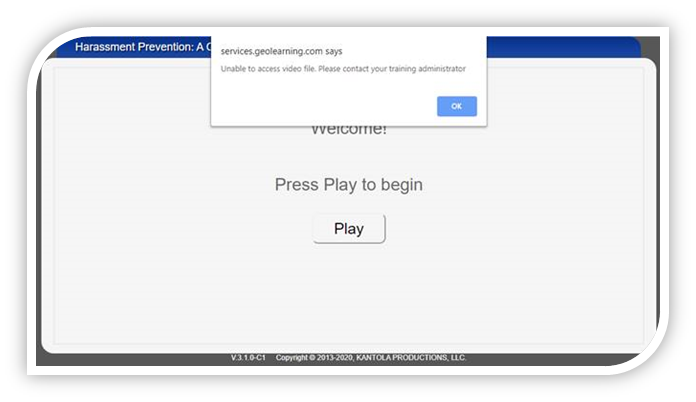 Verify if the links/domains below are "Safelist" by your IT team:
Step 3: Course Testing & Tracking
We strongly recommend assigning the course to a few users before a company-wide launch. If the course fails to bookmark progress or register "Complete" status, please contact your LMS provider for specific requirements needed to update the package delivered.
Course Playability: If the course has slow loading/buffering issues:
Try another browser to see if the issue still remains present.
Request a Low-Bandwidth package for slow network environments.
Bandwidth Requirements:

Minimum: 3 Mbps downstream and 1 Mbps Upstream
Recommended: 5+ Mbps Downstream and 1+ Mbps Upstream
Additional Information
Verify you have received the correct SCORM format requested (SCORM 1.2; SCORM 2004; AICC; ...)
After downloaded, try unzipping and zipping the package, then upload it into your LMS
Send us (if possible) a screenshot and the course name that you are having issues with, along with your LMS provider name and browser used (Chrome; IE; Firefox; ...)